It may be childish, but I think gifs are one of the best things on the internet right now. It's amusing to use one's favorite micro-moments of video to express one's emotions. If you haven't discovered
Whatshouldwecallme
, I suggest you check it out, because it's hilarious. To amuse myself, and because I need a stress outlet, I have put together a little whatshouldwecall me imitation.
When someone sends me an email with a read receipt.
When I'm in a late-running meeting.
When I am invited to a late Friday afternoon meeting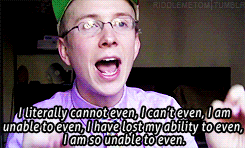 When someone sends me a high priority email
When I'm put on the spot in a meeting
When someone expects a huge new project to be completed immediately
When it's time to leave work for the day.